[toc]
The Data&Musée project collects sets of data concerning Paris Museums.
This page gives a general description of this data, possibly with links to data access and a link to a more precise description page of the data.
Not all data is publicly available.
List of Paris Musées members and related data
FPM1: a list of museums in Paris Musées has been established. This is a JSON file that also contains the links to entities described in DBPedia, DBPedia-en, or Wikidata. It should be noted that some museums do not appear to be known from any of these three knowledge bases (these links were established semi-manually by an automatic search with human verification, then manually by the museums with no results).
File here:
Private link: https://ws49-cl4-nextcloud.tl.teralab-datascience.fr/index.php/s/zaSn7CmAQ7iXFSH
---
Guestbooks data
Electronic Guestbook data is available from 2016 (for partners). The 2019 data have not yet been observed.
For 2018, we have the following elements:
2016
2017
2018
Total
Contributions
1450
(1374-fr; 76-en)
8017
(7114-fr; 817-en; 86-es)
27644

37111
avec origine géographique
11734

Sample presentation: contributions per week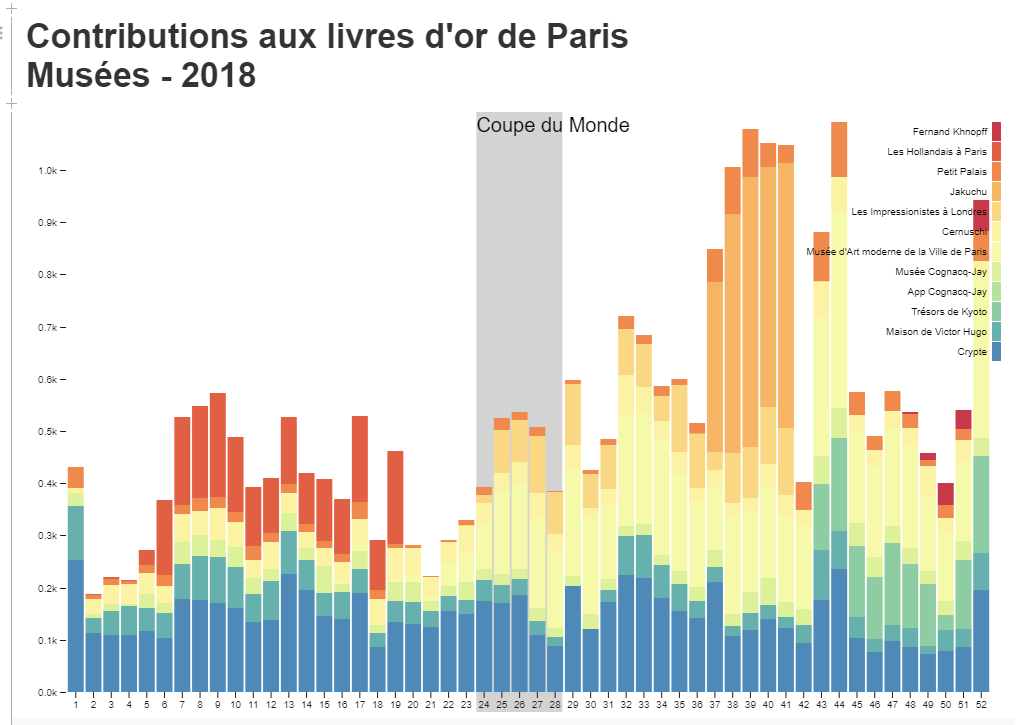 Private link: https://ws49-cl4-nextcloud.tl.teralab-datascience.fr/index.php/apps/files/?dir=/Sources/SourceGuestviews&fileid=129
See Données de Guestviews
__________________________________________________________________________________
Linked Open Data (LOD) and Paris Musées
See Données du LOD
__________________________________________________________________________________
Ticketing
As of 11/2/2019, a ticketing data file for the past week is uploaded each week on our NextCloud in the folder
/Sources/SourceParisMusees/Data Billetterie Paris Musees
There is one folder created at each upload, that contains a zip file of approximately 4 MB, representing approximately 50 MB when unzipped. The data is in csv format with separator ; and first line composed of column headers. The encoding is Unicode (UTF-8). A file has about 130000 lines.
Update:
| Period | 23/01/2019 to 23/06/2019 |
| --- | --- |
| Transactions | 773325 |